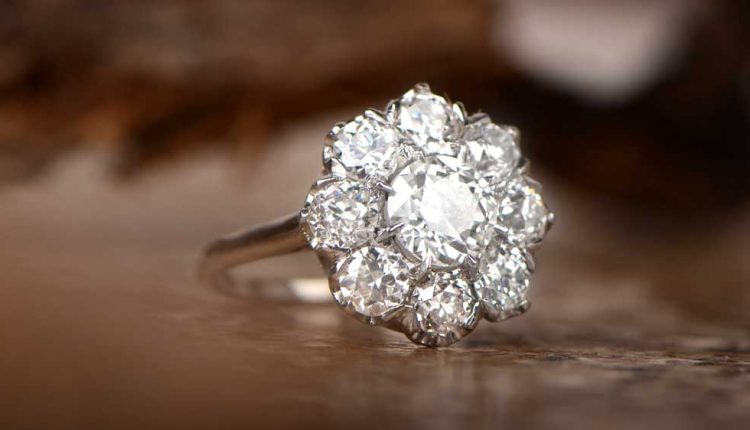 Promise rings have been around for a surprisingly long time. The earliest examples of promise ring first surfaced in 17th century England. The promise rings can come in many different styles. There is no convention on which – if any – precious stones are used. Some are even engraved with poetry or other phrases on the subject of love, while others are adorned with very expensive gemstones.
In the US, we've been giving promise rings for as long as high school kids have been giving class rings to each other. These gestures signify a blossoming and committed relationship, expressing love with a physical gift.
What is a Promise Ring?
A promise ring is a ring that is given as a commitment between two people to get engaged, and later on, to marry. When given, it's an indication that the giver is willing to commit to the relationship. The acceptance of the ring is an acknowledgment that the feelings are mutual.
Although a promise ring may seem very similar to an engagement ring, it is in fact completely separate. Keep reading to learn the technical differences.
Promise ring vs engagement ring
A diamond ring that could act as an engagement ring or a promise ring
It is important to note that a promise ring is not the same thing as an engagement ring! The actual jewelry used could be identical, but the meaning behind the two rings is not the same at all.
There are many differences between the two types of rings even though the rings themselves may be the same (see below).
Here are some of the more common reasons that a couple may choose to gift a promise ring instead of an engagement ring:
There are lots of couples who would like to be engaged, but circumstances make it impractical. It could be because of financial constraints, or geographical difficulties, or simply because a proposal of marriage is a scary and overwhelming thing to be a part of. They want to have a ring but they don't want it to be official, hence the promise ring.
If the couple are too young for an engagement ring, and therefore have decide to save the official ring for a later date, they may choose to gift a promise ring instead.
A couple may want to plan a proper engagement party/proposal and therefore start off with a promise ring
The girlfriend may still be searching for the perfect engagement ring and therefore choose to make do with a promise ring in the interim
The promise ring allows a commitment to be made without the pressure that comes with an official engagement.
It may also be that the two people in the relationship don't see marriage as a necessary formality. They may be happy for the commitment to be finalized without the pomp and ceremony – and cost! – of a wedding. The only condition of a promise ring is that it must actually promise something!
Typically the promise ring will be cheaper than the cost of the engagement ring, but that's not always the case. Keep reading to find out more.
The Giving Of A Promise Ring
There's no real etiquette or rules around giving a promise ring.
It isn't a proposal. It doesn't necessarily signify a new period in the relationship, and so it can be given when it's comfortable to do so. A romantic dinner is nice, but watching TV or during a walk in the park is just as appropriate.
It's also not necessary for the giver to place the ring on the recipient's finger as, again, we're not talking about a wedding proposal. Of course, if a finger is offered, then there's no harm in putting the ring on it.
Surprising her and bending down on one knee is probably a bad idea as she may assume that you are proposing.
Promise Rings vs. Purity Rings
Although the purity ring and the promise ring always get mixed up with each other, it is important to realize, that in truth, they are not the same thing at all. They actually have very little in common.
Both rings indicate a commitment, but the types of commitment they represent are entirely different.
A Purity ring is a promise to remain pure until marriage. It is a commitment between the couple to engage in abstinence until marriage. The ring serves as a reminder to the couple as they struggle to keep strong to their commitment.
A Promise ring, as mentioned above, is a promise to remain faithful to each other. The promise ring doesn't really have anything to do with purity and abstinence.
Additionally, a purity ring has religious or mental-health connotations, where the user uses the ring to remind themselves of their commitment to celibacy. The promise ring reminds the wearer of their commitment to their partner.
Which Hand to Wear the Promise Ring?
Promise rings have been traditionally worn on the ring finger on the right hand. In the past 20 or 30 years, many people have started to wear the ring on the left hand in lieu of an engagement ring. When an engagement ring is received, the promise ring will then be moved to the right hand or taken off entirely.
The point, though, is that it really doesn't matter. A promise ring can be worn on any finger, on a chain around the neck, or even on a toe. There are no rules for how and where promise rings should be worn. The significance behind the giving of the ring is far more important than where it appears on the body.
Promise ring designs
As mentioned in the introduction to this article, promise rings come in all shapes and sizes. Early versions would have inscriptions on them of poems or bible verses. Later came lavish precious stone arrangements to bring a personal message to the recipient. It's unusual to have a plain ring, although examples do exist which have Celtic or other cultural patterns engraved onto it.
Today's designs tend to straddle both ends of the genre somewhat, with small gemstones ring becoming more common, but usually in a more modest presentation than would be seen in an engagement or eternity ring.
Here are a few common ideas for promise ring designs:
(Most Popular Option) A smaller diamond ring. The budget usually will range from 1/4 or 1/10 of the price of how much you plan to spend on the actual engagement ring. Due to the smaller design, many promise rings will be surrounded by a halo of diamonds.
On an aquamarine ring. Aquamarine has become extremely popular (especially after Meghan Markle's famous Aquamarine Ring). Click here to view our collection of Aquamarine Rings.
A simple band with engraving (usually with names and dates or a message)
A precious stone set into a ring. For example Sapphire, Emerald, or Ruby. The ruby ​​promise ring is growing in popularity.
Any of the semi-precious stones set into a ring. For example Amethyst, Topaz, or Peridot.
A cubic zirconia ring. Basically a fake version of a real engagement ring.
(Growing Trend) Her birthstone set into a ring. Click this link to shop our birthstone collection.
How much does a Promise Ring Cost?
This common question is probably the hardest one to answer. Our best answer would be: It depends. There are so many things to think about when setting a budget for the promise ring.
You should never put yourself in financial jeopardy to purchase your promise ring. Also, it is important to keep in mind that you will also have to buy an engagement ring. To learn more about how much to pay for your engagement ring, click here.
If we were forced to answer the question, we will give a few possible answers:
As much as you can afford. If you can afford to pay $50,000 on a promise ring then why not just do it?
The average going rate for promise rings runs between $100 – $4,000. If you purchase the ring for anything in that wide price bracket you should be fine.
As little as possible if you are saving up for your engagement ring.
Shop Promise Rings
Here are some of the women's diamond promise rings from our collection. If you have any questions, feel free to reach out to one of our jewelry experts below.
Promise Necklace
Instead of gifting a promise ring, some have started to gift promise necklaces and promise pendants. We predict, this trend will probably catch on, especially with all the confusion between promise rings and engagement rings.
There are so many types of ideas that are bouncing around at the moment, but as of now there really aren't any set rules (or price brackets).
Here are a few ideas for inspiration.
Giving a promise ring to your girlfriend is one of the most personal things you can ever do, and your reasons for giving it should also be personal. The convention is set aside and giving the promise ring – and all the circumstances surrounding it – are dictated only by your feelings and intentions.
In short, if it's right for you, then go ahead and do it. Click here to shop diamond rings and click here to shop for gemstone rings.
If you have any questions about buying jewelry, feel free to reach out to one of our jewelry experts. We will respond within 1 business hour.