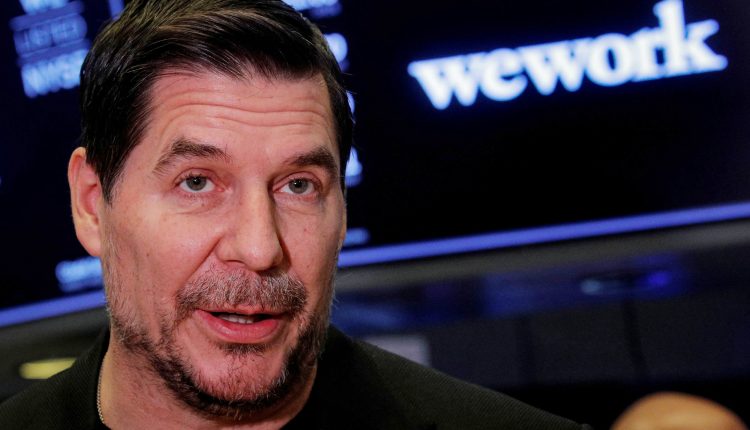 WeWork discloses "materials weak spot" and plans to reevaluate the financials of the SPAC sponsor, which can scale back stock
Marcelo Claure, Chairman of WeWork, Inc., speaks during an interview at the IPO of WeWork on the floor of the New York Stock Exchange (NYSE) in New York City, USA, 21 October 2021.
Brendan McDermid | Reuters
Just over a month after debuting in the public market, WeWork already has a catch with investors.
The flexible office space provider announced in a government motion on Wednesday that it will adjust the financial results for 2020 and the first three quarters of 2021 for the sponsor of its special purpose vehicle (SPAC) because calculations were made with the wrong public share count.
The stock fell more than 5% to $ 7.86 in expanded trading after the release.
WeWork went through a SPAC called BowX Acquisition Corp. in October. IPO led by Sacramento Kings owner and former CEO of TIBCO Software, Vivek Ranadive. Wednesday's filing stated that BowX's initial public offering prior to the merger with WeWork incorrectly classified some of the shares issued as "permanent equity" rather than "temporary equity".
In consultation with BowX's accounting firm, WeWork said it resolved on Nov. 29 that all SPAC financial reports from last year should be "reformulated to include all public shares as temporary equity". Its existing reports "shouldn't be relied on anymore," WeWork said.
The announcement represents yet another setback for WeWork, which was bailed out by SoftBank in 2019 after excessive losses and overvaluation forced the company to abandon its initial initial public offering plans. Co-founder Adam Neumann was deposed as CEO and the company scaled back its ambitions to focus only on office space.
Due to the misclassification of its stocks, WeWork now acknowledges that there was "a major weakness in internal control over financial reporting" when it came to accounting for aspects of public stocks. The company said key weaknesses are described in its amended reports.