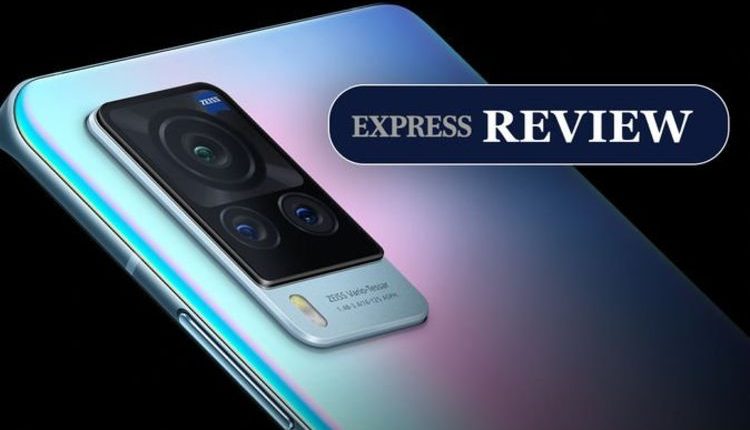 Vivo may not be a household name in the UK, but this Chinese brand should definitely not be ignored. Recent statistics have shown that it is now the fifth most popular smartphone brand in the world, hot on the heels of famous companies like Oppo, Apple and Samsung. The company has a range of Android-powered devices on the shelves with prices starting at just £ 109. However, anyone who wants the best of Vivo should check out the X60 Pro 5G.
This phone has a 6.56-inch HD + AMOLED display, triple rear camera and a fast Qualcomm processor. The question is, should one ignore the Galaxy S21 or OnePlus 9 and invest in one? Express.co.uk took a look at the X60 Pro and here are our thoughts …
There is a lot to like about the X60 Pro right out of the box. This phone offers a comfortable design and a great feeling in your hands. The frosted glass on the back looks brilliant and prevents it from becoming a terrible fingerprint magnet.
The touchscreen is also curved on the sides of the case so it's incredibly comfortable in your hands. Vivo's design team did a solid job on the X60 Pro, but sadly it doesn't impress you and – unlike phones like the Samsung Z Flip 3 – it certainly doesn't break new ground.
Press the power button and your eyes will be pampered with a bright 6.5-inch AMOLED screen with a fast refresh rate of 120 Hz. Scrolling through websites or playing the latest games and Android apps feels silky smooth and absolutely jerk-free.
VIVO X60 PRO AT AMAZON • 748 € • SEE THE OFFER HERE
A feature called the Smart Switch can also adjust the refresh rate based on your activities to save valuable battery life. So if you read an article like this, the refresh rate will go down when the webpage is not moving. It's a smart idea, and it really helps keep things a little longer.
On this HD + display, the colors look bright and the only thing that breaks the brilliant experience is a tiny selfie camera with holes in it. Hidden under the screen is a very fast fingerprint scanner that unlocks the handset in a flash, and there is an always-on option that constantly shows the time, date and any notifications that appear throughout the day.
Flip the X60 Pro around and you will find a triple lens camera operated by the experts at Zeiss. You get a standard 48-megapixel main lens with wide-angle and portrait snaps neatly tucked underneath.
Pictures taken with the phone look really nice with lots of detail and rich colors, but they are certainly no better than anything else we've seen in this price range.
An impressive feature is the built-in image stabilization, which uses an innovative gimbal system that moves with it to reduce blurring and shake when taking photos and videos. It works incredibly well and adds some Hollywood style to your home movies.
Like most premium Android phones, the X60 offers 4K recording and can take great pictures in the dark thanks to its night mode. If you want to get up close and personal, you are given a macro option that makes shooting objects in fine detail a breeze.
Go under the hood and there's a Snapdragon 870 processor that is good but not as powerful as the higher quality 888 found in some of the X60's competitors. In addition, there is a generous 256 GB memory, 5G data compatibility, all-day battery life and fast charging thanks to the 33 W power supply unit supplied.
The device runs on Android 11, with Vivo adding its own extras via its FunTouch OS. Despite its rather bizarre name, the operating system is easy to use and there are many extras like customizable warnings, gesture controls and a nifty one-handed mode.
This is a good device from Vivo, but it has some issues. At over £ 700, this isn't a cheap phone, but it lacks some of the features we'd expect from a premium device.
For example, there is no water resistance rating, the slower 870 processor is running and you cannot charge it wirelessly.
The design is nice, but it won't be noticed when you pull it out of your pocket, and while the cameras are good, we've definitely seen snapshots taken on other devices just as well. This is a crowded market, of course, and we're just not sure if the X60 Pro is doing enough to stand out from its more famous competitors.
Vivo X60 Pro in the test: final verdict
The Vivo X60 Pro is a solid phone with lots of great features. You'll find a lovely AMOLED screen with a silky smooth high refresh rate, solid design, fast under-screen fingerprint scanner, lots of storage, 5G, and a decent camera. The device also comes with a powerful power plug in the box for quick charging and the Android 11-based FunTouch OS offers many customization options. Phew, that's a lot.
Unfortunately there are some drawbacks. The biggest problem for the impressive X60 Pro is that some of its competitors offer similar – and sometimes better – features at the same or lower prices. Coupled with the fact that many of these brands are better known and have a long track record of updating their devices with new operating systems, security updates, and customer support, it is easier to recommend these competing devices.
For example, you can buy the excellent Galaxy S21 for only 779 euros or treat yourself to the extremely powerful OnePlus 9 for 629 euros.
There's a lot to like about the X60 Pro, but we wish it did a little more to stand out from the highly competitive (and ever-growing) Android crowd. Vivo also just announced the X70 range, which means the X60 now has another competitor!
This article contains affiliate links, which means we may receive a commission on any sales of any product or service we write about. This article was written completely independently, more details can be found here