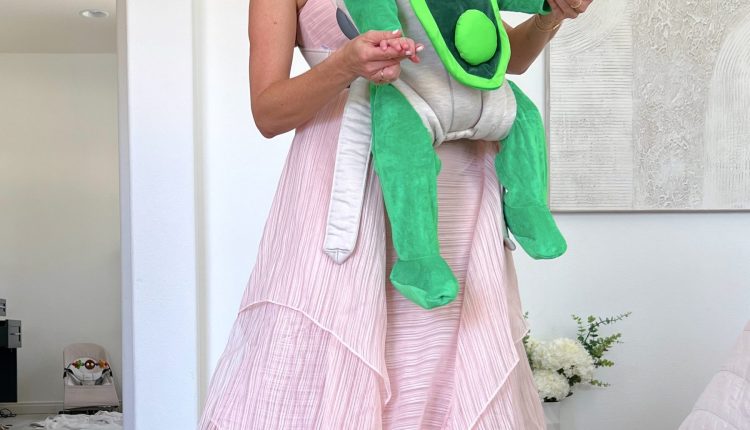 These baby carrier Halloween costume ideas are so easy!
Would you like to have your hands free while trick-or-treating? There are so many fun Halloween costumes to wear with a baby that don't require sewing. Here are some Halloween costume ideas I came up with for my son in mommy and my baby carrier:
6 Baby Carrier Halloween Costume Ideas
Princess and the Pea
This peas in a pod costume actually had a removable velcro closure at the front. So I just stuck it under my Babybjörn carrier after I put my son in it.
Safari guide and safari animal
Since my baby carrier is neutral, I felt like it would coordinate with my son's giraffe costume. If you have a black baby carrier, a zebra might be cute. Or if your wearer is gray, an elephant costume would be adorable!
Cow jumped over the moon
Did you know that a dog costume can be repurposed as a baby carrier Halloween costume? I discovered this towards the end of my disguise journey. But I will use this trick forever! Here is a video on how you can do it yourself easily and without sewing.
Frida and her monkey
Preston got a little hot, which is why he took half of his monkey costume off in these pictures. So I also shared the non-baby wearing Halloween costume. But Frida is super easy because she always wore scarves. This way you can easily wrap a scarf around your carrier.
Royalty
This is another dog costume that I repurposed for my baby. I've included both photos so you can see what it looks like. A cape can be easily draped over a baby carrier!
Curious George and the Man in the Yellow Hat
Another monkey costume. Another time it got too hot for my son so he only wore part of it. This time I used my Baby K'Tan carrier as a sling.
More Halloween ideas:
Halloween costumes for mom and baby
Idea for a maternity costume
Easy last minute costumes
Costumes I love on Pinterest