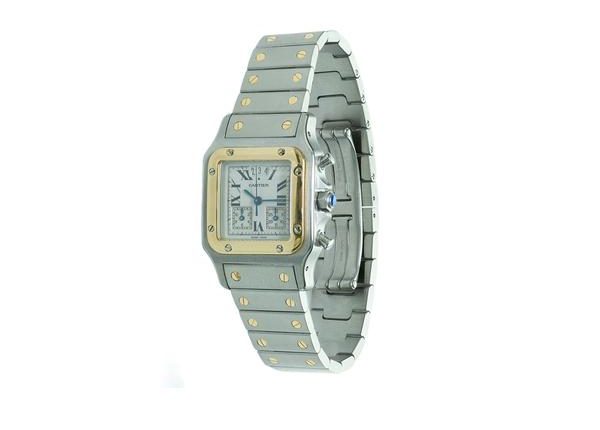 The origin of the men's wristwatch
Wristwatches were used in the early 1900s, but it took a while for them to become fashionable or even popular. While women were already wearing their jeweled wristwatches, that was The pocket watch was still preferred by men everywhere in the first decade of the 20th century. That was about to change with the debut of two iconic wristwatches: the Santos and the Tank.
The Santos wristwatch was developed in 1904 for the famous Brazilian aviator Alberto Santos Dumont who wanted to display the flight time. As a long-time friend of Louis Cartier, he had great difficulty measuring his performance time in the air with a pocket watch. The pilot's request was granted and buckling up a wristwatch proved extremely convenient, and the Santos Dumont wristwatch was officially sold to the public in 1911.
A short story: Alberto Santos Dumont
Heir to a wealthy family of coffee producers, Santos-Dumont devoted himself to aviation research and experimentation in Paris, where he spent most of his adult life. In his early career, he designed, built, and flew hot air balloons and early airships. On October 19, 1901, he won the Deutsch de la Meurthe Prize for a flight around the Eiffel Tower.
He then turned to experimentation in the field of machines heavier than air, and in 1906 his 14-to The first powered flight in Europe was certified by the Aéro-Club de France and the Fédération Aéronautique Internationale. His conviction that aviation would usher in an era of global peace and prosperity led him to freely publish his designs and to forego patenting his various innovations.
The legacy
Santos-Dumont is a national hero in Brazil where it is popularly claimed that he preceded the Wright brothers in a demonstration of a practical airplane. Countless streets, squares, schools, monuments and airports are dedicated to him, and his name is registered in the Pantheon of the Fatherland and Freedom of Tancredo Neves.
How does this all relate to the visionary house known as Cartier? The Santos Dumont wristwatch proved extremely useful in flight and incredibly helpful when it came to his record breaking time flights. He was the first to be filmed in flight on an airplane, flying 220 meters in 21.5 seconds while wearing what is arguably the pilot's first wristwatch in history.