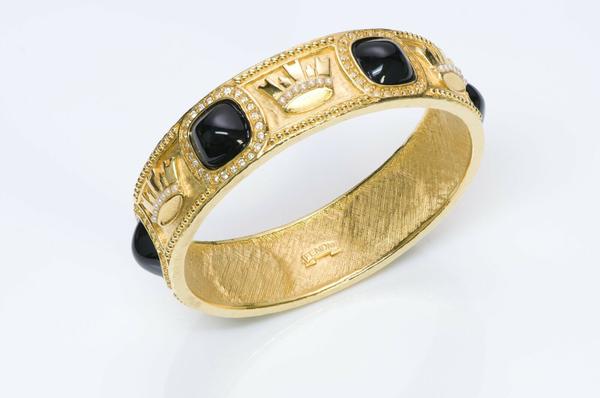 The roots of the house
With roots in Via del Plebiscito, a busy street in the heart of Rome, the Fendi brand was originally a simple little leather goods store run by Adele and Edoardo Fendi. At that time they were the only brand with an in-house fur workshop, a kind of secret workshop.
By many factors, the hard work and creative energy of the couple's five daughters led to quick success, and in 1965 a young German designer joined the house. The designer Karl Lagerfeld revolutionized the wearing of fur and interpreted it as a fashionable item of clothing. In 1977 the house's ready-to-wear collection was released. Side by side with Silvia Venturini Fendi, the two released many classics such as the timeless peekaboo and the legendary baguette bag. Her fame and reputation reached new heights when her 2007 fashion show on the Great Wall of China became the first to be seen from space.
Fendi House is representative of the company's creative and artistic vision and focuses on craftsmanship and quality. The Fendi craftsmen get to work from an infinite selection of colors and materials. Fendi is assembled by hand, paying particular attention to the quality of the materials. While this describes the process of making handbags, Fendi jewelry is not exempt from the Fendi's Quality Code.
Fendi jewelry
Most Fendi jewelry is classified as costume jewelry or costume jewelry. Fendi costume jewelry is made from base metals and alloys, often coated with precious metals, and contains semi-precious or imitation stones. Costume jewelry should be worn with a specific outfit and emphasize color, style and current trends more often than fine jewelry. Materials can also vary and Fendi costume jewelry offers a wide selection, including glass, leather and stones.
Glass
Some great examples of Fendi jewelry are these Fendi gold-plated cast glass earrings. As the name suggests, these earrings use the art of pouring glass and gilding.
The technique of pouring glass involves pouring hot molten glass into shapes of various shapes. The glass is mostly colored and when it cools it has a translucent or cloudy character and a smooth surface. The shaped glass is then placed in a frame to complete the piece. Another method is to pour hot colored glass right where you want it to be set and then solder it onto the rest of the piece.
leather
This Fendi crocodile bangle from the Fendi Spring 2015 collection is another great example of the work behind Fendi jewelry. The bracelet is made of dyed crocodile skin. The real crocodile skin is much rarer, not as easily accessible as, for example, cowhide and is therefore in great demand.
This leather is also considered to be more difficult to work with and requires special training. As a result, crocodile leather goods are usually at the higher end of the price range. Fendi jewelry brings you this quality in the form of a bracelet.
Stones
Fendi jewelry often contains semi-precious stones, as in this case Fendi Stingray stone cuff bracelet. The stones used for this piece are black onyx and a stone called tiger eye. Black onyx is known for its healing properties that are said to be enhanced when worn on the wrists, which will be the case with this Fendi jewelry piece. Just like the animal it's named after, the tiger's eye stone can make you quick and gives you strength in both decision-making and happiness. As with onyx, it is also recommended to wear the tiger's eye on the wrist.
With nearly a century of fine artisans, a history of innovation and brand integrity, this Rome-based fashion house has a lot to offer. Be it a necklace, a pair of unique earrings or an elegant bracelet, Fendi creations will add the perfect finishing touch to your outfit every time.