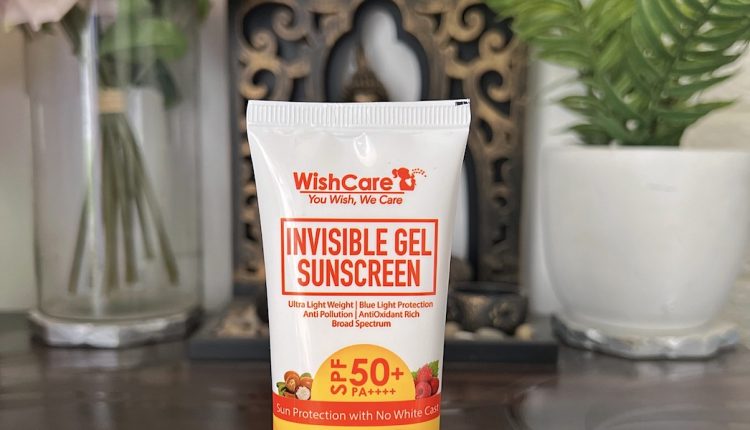 Review Wishcare Invisible Gel Sunscreen Spf 50 | Best sunscreen for oily skin
Summer is my favorite season. I can wear light, floral, flowy outfits and enjoy my day outdoors. But with summer comes the sun, and the more time you spend outdoors, the greater the risk that UV radiation will lead to sun-damaged skin. I always look for a sunscreen lotion with a light texture and a non-greasy formula so I can wear it without looking like a lump of grease. I found the best SPF 50 facial sunscreen that ticks all the boxes for me – Wishcare Invisible Gel Sunscreen –
Wishcare Invisible Gel Sunscreen comes in a squeeze tube, which I think is the perfect packaging. It is user-friendly and travel-friendly. I can throw it in my purse and reapply on the go! The narrow nozzle allows you to control product delivery.
I never forget to follow the 3 finger rule. This means you should always apply a coin-sized amount of sunscreen to your face and half a coin-sized amount to your neck. It's important to cover exposed areas with sunscreen to prevent your skin from being damaged by UV rays.
In the past I've always found the three finger rule to be a bit excessive, probably because of the sunscreen I used. They weren't easy to work with and always left a great layer. But Wishcare sunscreen is just the opposite. It has a liquid texture that spreads easily. Now I can wear sunscreen for 365 days without thinking about it.
This sunscreen is currently my favorite sunscreen as it provides a natural finish that isn't completely matte or greasy. In summer I avoid heavy textures and this one has a perfect gel-based texture that sinks into the skin without feeling heavy! It has a mild scent that I find very refreshing.
It's an antioxidant-rich multitasker with a unique milky gel formula that glides onto skin while providing broad-spectrum SPF 50 protection. It melts into the skin without leaving a white cast, which I really liked. I had a hard time finding a formula that offered broad-spectrum sun protection and didn't leave a white cast. The formula is also very light, my dry skin loves the moisturizing texture and slightly dewy finish. In my opinion, it would be the best sunscreen for oily skin as it is moisturizing and non-greasy.
This sunscreen cream with SPF 50 PA++++ protects the skin not only from UVA and UVB damage, but also from blue light rays. UVA rays cause aging and UVB rays cause pigmentation. Therefore, it is particularly important to use a high sun protection factor, especially if you spend long periods of time outdoors. Also, make sure to reapply sunscreen every 3-4 hours or depending on the amount of sun exposure you are exposed to. I make sure to reapply sunscreen during the day, even when my sun exposure is quite low.
Wishcare Invisible Gel Sunscreen is a hybrid formula that contains both chemical and physical sunscreen filters. It is also free of the harmful chemicals OctylMethoxyCinnamate (OMC), oxybenzone and homosalate, which can cause hormone disruption.
In the summer, I prefer less layers when it comes to skin care to keep my skin from sweating, so a sunscreen with skin-care properties is the ideal choice. Wishcare Invisible Gel Sunscreen is the best SPF 50 facial sunscreen that also contains skin-loving ingredients like goji berry and green tea extracts that are rich in antioxidants. Antioxidants play an important role in reducing oxidative stress, which is a major cause of aging.
This sunscreen lotion also contains 1% hyaluronic acid, known for its moisturizing properties. Hyaluronic acid is suitable for all skin types as hot wind can cause dryness and HA is a perfect ingredient to counteract this.
Wishcare Invisible Sunscreen has a light, invisible texture that is a blessing. I've been looking for a long time for a good, lightweight sunscreen, a formula that doesn't take long to blend and absorb into the skin. It doesn't get stained or oily. It doesn't feel greasy or sticky and would be the best sunscreen for oily skin.
The sunscreen lotion has a mild floral scent that I like. Wishcare is 100% cruelty-free, clean and a vegan brand. If you're looking for the best sunscreen for oily skin that's non-greasy, hydrating, lightweight, applies like a dream, and offers a skin-like finish, then you've come to the right place.
Wishcare Invisible Gel Sunscreen contains NO sulfates, silicones, parabens, mineral oils, salts, sodium chloride and gluten. WishCare does not contain any of these harsh chemicals. This makes WishCare Invisible Gel Sunscreen the best SPF 50 sunscreen for the face.
After using it for over a month now, I can definitely recommend it to you. Check out the Wishcare Invisible Gel Sunscreen, I'll link it HERE
Comments are closed.