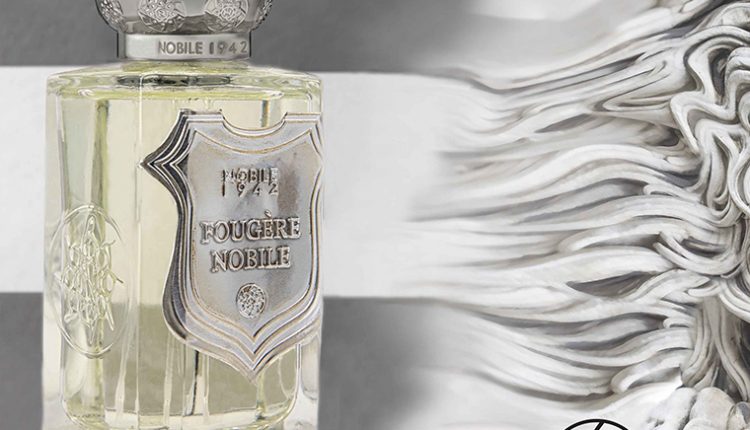 Nobile 1942 Fougere Nobile Perfume Review
Nobile 1942 Fougere Nobile Eau de Parfum has a sharp, peppery citrus and lavender opening that was fresh, spicy, and as crisp as winter air. The lavender gains strength and blended with with soft florals, and as the lavender does so, the whole composition is smoother, more blended, and softer, especially as vanilla makes its way in. The tobacco is subtle on me, though others seemed to encounter it more thoroughly, and appears two hours in. The drydown was a soft cloud of lavender and vanilla with patchouli undertones.
Fougeres are diverse, but they typically combine lavender, oakmoss, and coumarin, and more modern fougeres incorporate notes of bergamot, galbanum, and vetiver. There are also ways to categorize fougeres, eg citrus fougere, woody fougere, and leather fougere. Jovoy Paris breaks down fougeres as traditionally including an aromatic top note, pink heart, and a base of oak moss and coumarin.
top notes: lavender, bergamot, black pepper, basil
heart notes: tobacco, aldehydes, geranium, elemi
base notes: vetiver, musk, sandalwood, patchouli, tonka bean
It opened with a bouquet of sharp, slightly bitter citrus, fresh lavender, and dash of pepper that kept the opening moments fresh, crispy, and spicy. As the sharpness dissipated, the notes blended together with the geranium starting to bloom after five minutes of wear. For the next several minutes, the lavender strengthened and softened against a backdrop of vanilla.
After a half hour, it seemed equal parts lavender, vanilla, and vetiver; it was aromatic, green, and rounded out with sweet vanilla. The tobacco emerged almost two hours in, subtle and smoky, and blended over faint traces of sandalwood, which tempered the more aromatic and green qualities of Fougere Nobile. The drydown was primarily a cloud of lavender, vanilla, and a little patchouli.
Application
For testing, I used half of a 0.7ml sample vial dabbed to the underside and topside of my wrist area on my left arm. I used an unscented moisturizer prior to applying the scent as this is also my swatching arm (aka, incredibly parched at any given moment) as I found scent did not hold well here otherwise.
longevity
It lasted for five hours until it was a skin-scent and about eight hours before it was quite difficult to detect on my skin. The sillage and projection were moderate with the sillage dropping faster than the projection within the first hour of wear.
Personal Thoughts
I've only tried a few fougeres, as it is not a category I've really done a deep-dive on, which is something I'm looking to do now. I liked it, but I'm not sure it's a scent I'd want to wear on myself all day yet.
Available Sizes
75ml for $135
0.7ml sample for $4
where to buy