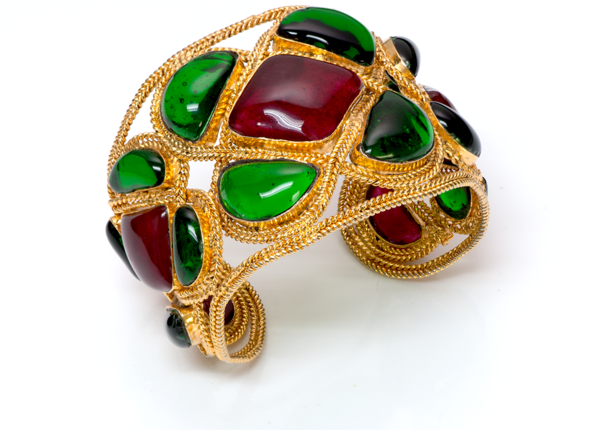 When you think of Chanel, what is the first thing that comes to mind? Earrings? Bracelet? Pearls?
Mademoiselle Chanel changed the fashion industry with her timeless designs that are popular to this day. Chanel's passion for making jewelry and accessories sprang from old inspirations as well as memories of visits to museums and galleries filled with glitter and extraordinary pieces. In the early 1920s, Chanel introduced luxurious costume jewelry that she herself wore in abundance. The simple shapes of their fabrics provided an ideal backdrop to balance their costume jewelry.
Chanel jewelry
Chanel has been making impressive costume jewelry in gold tones for 100 years! Chanel started making costume jewelry in the 1920s. The term costume jewelery was coined because the pieces were made to go well with a particular "costume" or outfit. Gold in Chanel's collections is worn with everything and can decorate everything in front of it.
For Chanel, sparkling diamonds expressed her love for the stars and comets and the lights of the Champs-Elysees. The necklaces glitter on the cleavage, which is provided with moiré ribbons. and tiaras, crescent-shaped and star-shaped brooches, ribbons and fringes sparkle in your hair. The faces of the elegant visitors are reflected in the showcases with indirect lighting that protected the fabulous collection. These gemstones, cut in their natural state with hidden mounts and clasps, were based on three motifs – knots, stars and feathers – and could be separated and transformed. For example, a necklace can be changed into three bracelets and a hat brooch. It was not the jewels themselves that were modern and pointed to the past; That's how Chanel wore them.
Chanel's designs
When Chanel staged her comeback in 1954, she offered tweed suits as well as all kinds of accessories that she wore every day. Unlike other designers for whom accessories completed a silhouette or promoted a decorative effect, Chanel made individual pieces that were exercises in developing the perfect one-off, be it a flower, a hair bow or a shoe. She didn't show off a ton of new pieces every season; Instead, she added a new article to her working vocabulary from time to time. Chanel jewelry from the 1950s and 1960s, made by Gripoix and a new associate, goldsmith Robert Grossens, contained copies of pieces she had worn for decades.
After Chanel's death in 1971, her house had an elegant patina. When Karl Lagerfeld joined as Creative Director in 1983, he not only changed the House of Chanel, but also all of fashion. The Lagerfeld-for-Chanel tightrope act is most dazzling when it puts the classic against the hip and adds another dimension to an already paradoxical story. Led by Lagerfeld, Chanel's reach has expanded even further, becoming the newest logo to be coveted and revered by teenagers and hip-hop celebrities alike.
Who Was Coco Chanel?
Coco Chanel was the top class couturier for most of the 20th century. Attractive, ambitious, and a genius for self-invention, she became one of the first female couturiers to be celebrated for both her glamorous personality and flawless designs. Chanel grew up in an orphanage and was practically self-taught. Starting from a small business, he quickly built a large fashion house with branches in Paris, Deauville, Biarritz and London.