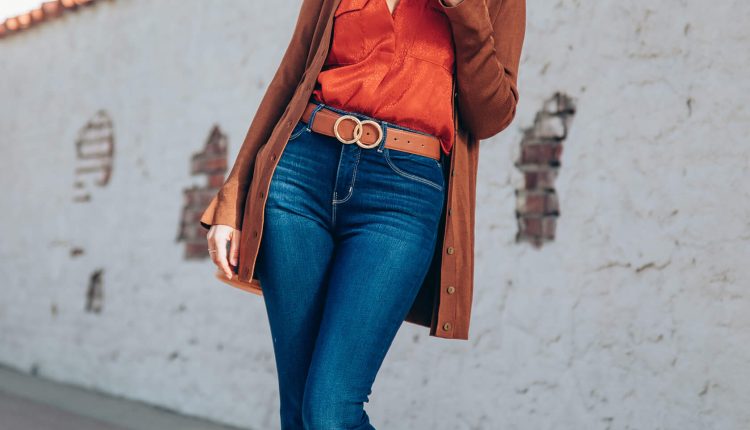 The only thing I miss most about life on the east coast is the changing of the seasons. I loved seeing the leaves turn into the brightest colors when I lived in Boston. Every fall I get a huge hit when I see all the gorgeous photos of leaves get into my feed. That's why I look for leaves in my closet to find outfits that are inspired by autumn leaves. I pull out pieces in bright oranges and deep reds to at least get some fall vibes if I miss the fall leaves.
This year I mixed the tones with one of the biggest colors of the season: chocolate brown. You can spot this cardigan as I wear my white all the time. I love how the rich brown mixes with more vibrant colors, like this tonal animal-themed top that is perfect for zoom meetings!
I also wear the cardigan as a top over jeans. Then I use accessories like burgundy ankle boots and my corduroy face mask (there's a mask bundle with this gold chain mask necklace for November!) To highlight the fall colors.
Since I don't have to find autumn leaves in my neighborhood yet, all I had to do was take photos in front of bougainvillea. I suppose living in a place that has flowers versus beautiful leaves isn't that bad after all. I hope you like my outfits that are inspired by autumn leaves.
PHOTOS BY MUNOPIA