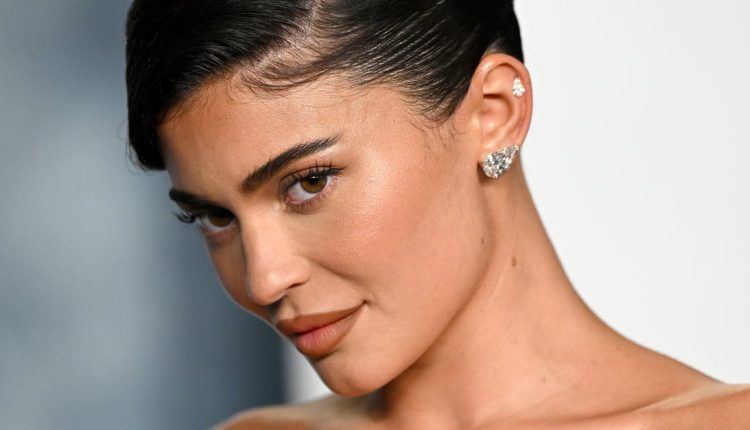 Kylie Jenner wears a striped nude dress for her second Oscar night look
Though Sunday night's Oscars brought some of the season's most stunning fashions, the style didn't end when the show was over. Between the Vanity Fair Oscars Party and other after-hours events, the stars flocked to show off a variety of additional looks before the evening drew to a close.
Kylie Jenner – who was not present at the ceremony – found a way to make two separate statements throughout the evening. The 25-year-old beauty mogul, who was styled by Alexandra Rose and Mackenzie Grandquist, arrived at Vanity Fair Step-and-Repeat for the first time in a sweet but sassy strapless dress designed by John Galliano especially for Maison Margiela . In its gunmetal hue, the look went very well with her edgy but monochromatic aesthetic, with an oversized bow at the chest and a train that tumbled down the middle of her back and skimmed the floor as she walked. Lorraine Schwartz diamonds climbed up her ears, including huge pear-shaped studs on each earlobe. With her hair in an Old Hollywood updo, her makeup was all natural.
Then, because one look is never enough for the evening, Jenner took to Instagram to share her second outfit: a form-fitting nude dress with sheer paneling and black stripes by LaQuan Smith. The midi silhouette exuded harlequin vibes and fell elegantly from the shoulders. Her hair and makeup remained the same as when she first appeared on the blue carpet earlier in the night.
Although Jenner just returned from her run at Paris Fashion Week last month, she has taken a break to define her casual summer wardrobe via newly released campaigns in a black thong and a sheer mesh tunic for her skincare line. Kylie skin.
See Jenner's two Oscar looks from all angles and try to figure out which one you prefer.