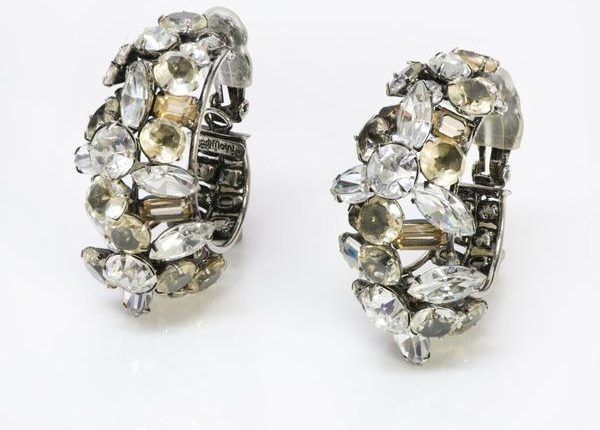 "Iradj [Moini] is a genius "
These words were said with sincere admiration by Lawrence Vrba, one of the most famous American jewelry manufacturers of today, who pays homage to his colleagues in contemporary jewelry manufacturing Iradj Moini. Iradj Moini produced costume jewelry for Bill Blass, Carolina Herrera and Arnold Scaasi. The Iran-born jewelry maker became a leading jewelry designer for the Oscar de la Renta fashion house, There he creatively designed and directed catwalk jewelry for a decade, his Eye-catching designs have made headlines in fashion magazines, are featured in museums, and highlight private collections.
Iradj Moini's jewelry craft
Iradj Moini jewelry is always characterized by its solidity and embody world-class craftsmanship.
Each piece is based on the best basic materials, with semi-precious stones adding value and size over time. The Iradj Moini jewelry Specifically, the pieces are hand-set and contain semi-precious stones and sometimes artisanal Czechoslovak vintage crystals, often on a brass construct that is then plated with an 18-carat gold or platinum finish.
Iradj Moini is also known to use copper, bone, wood, European crystals and oriental gemstones in bright colors. After a couple of decades, he added the use of bronze, quartz, pearls, lapis lazuli, emeralds and rubies to his jewelry so that the size of the gemstone could exceed what was considered normal.
No two pieces of Iradj Moini jewelry are exactly the same as they are all handcrafted in his Manhattan studio and each can take weeks to manufacture. His meticulous attention to detail keeps the collectors busy.
Art Nouveau and Art Deco influence
Iradj Moini draws inspiration for many of his works from the beginning of the 20th century, the era of Art Nouveau and Art Deco. He often uses old style elements and essentially makes a jigsaw puzzle out of pieces of bygone styles.
Some of his designs are inspired by nature and art and use a mix of colors that creates a luxurious and innovative work of art. His pieces are remarkably large, three-dimensional and pay homage to his architectural background.
Calling Iradj's fashion jewelry fun is an understatement, as his eye-catching and larger-than-life designs will make a statement on any occasion. His jewelry exudes a certain quality of character, attracts curiosity, and has a universal appeal. His jewelry was exhibited at the Metropolitan Museum of Art in New York as part of the Iris Apfel collection and was also featured in the Trop exhibition with Barbara Berger at the Louvre in Paris, where he now has three pieces permanent as part of the Louvre collections.
The desire to express yourself and not be afraid of being the star of the show are the attributes required to bring out a piece by Iradj Moini.
"Every piece is handmade and inspired to tell a story because every woman is so present that you want to appreciate and glorify it," explains Iradj. His philosophy made him one of the most imaginative and visionary designers of his time.