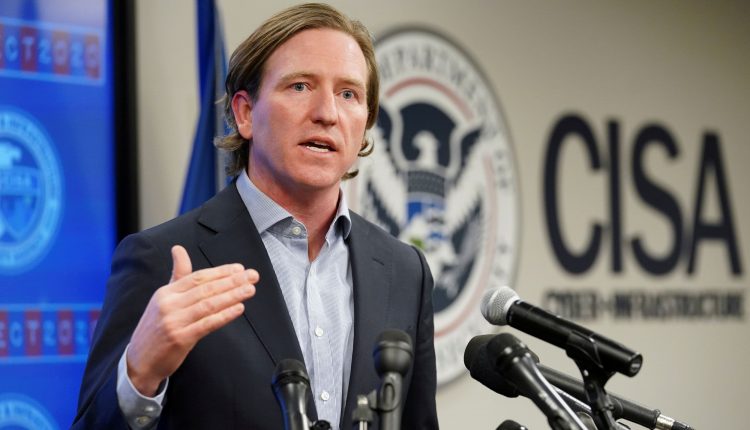 WASHINGTON – President Donald Trump announced on Twitter on Tuesday that he had "fired" US senior cybersecurity officer Christopher Krebs.
In two tweets, Trump said that Krebs had made a "highly imprecise" statement on the security of the 2020 presidential election.
Trump, who has not yet conceded President-elect Joe Biden, claimed the election was fraught with "massive inadequacies and fraud." Twitter tagged the president's tweets with a warning that the allegation of election fraud is controversial.
Krebs, who heads the Department of Homeland Security's agency for cybersecurity and infrastructure security, is responsible for leading efforts to protect the US election. He has previously said there is no evidence that the elections were compromised by foreign interference.
On election day, Krebs urged Americans to be patient and "treat all sensational and unconfirmed claims with skepticism".
Christopher Krebs, director of the U.S. Cybersecurity and Infrastructure Security Agency (CISA), speaks to reporters at the CISA polling center on Super Tuesday in Arlington, Virginia, the United States, March 3, 2020.
Kevin Lamarque | Reuters
"Regardless of the outcome here, there is a shared bond that is stronger than political affiliation and that means we are all Americans," Krebs said during a November 3 press conference, adding, "Keep calm and vote over and over from today, keep calm and let them count. "
Continue reading: There are no signs of hacking on computers that are used to record and count votes, according to the U.S. electoral security officer
On Tuesday before, Krebs tweeted from his government account: "Due to the allegations that electoral systems have been manipulated, 59 electoral security experts agree that these allegations were either unfounded or technically incoherent in every case known to us."
Less than an hour after Trump tweeted about his dismissal, Krebs tweeted from his personal Twitter account, "It's an honor to serve. We did it right."
He is the youngest official in the Trump administration to leave shortly after the election.
"I'm proud of the work we've done at CISA," Krebs told NBC News on Tuesday night after the layoff. "I'm proud of the teammates I've had at CISA. We got it right."
A source aware of the firing told NBC News Krebs that he found out the news on Twitter and that he found it angry for taking the job seriously.
Multiple sources close to Cancer told NBC News in the past few days that the issue was when Cancer would be discharged. They expected that he would continue to push back the president's misinformation about the election until the end and not be "low".
"He was on death watch," said one person near Cancer.
""Chris Krebs is an exceptional official and exactly the person Americans want to protect the security of our elections, "said Mark Warner (D-Va.), Vice chairman of the Senate Intelligence Committee, in a statement the president only sacked him because he was telling the truth. "
Last week Trump fired Secretary of Defense Mark Esper via Twitter, replacing him with Christopher Miller, director of the National Counter-Terrorism Center.
Shortly after Esper's dismissal, a Trump administration official told CNBC's Eamon Javers, "I assume the FBI and CIA are next," referring to FBI Director Christopher Wray and CIA Director Gina Haspel.
The Department of Homeland Security did not immediately respond to a request for comment.
The most recent revelation comes when Trump rejected the US presidential election results. Other senior administration officials like Vice President Mike Pence and Secretary of State Mike Pompeo have publicly insisted that the election is not over.
—NBC News contributed to this report