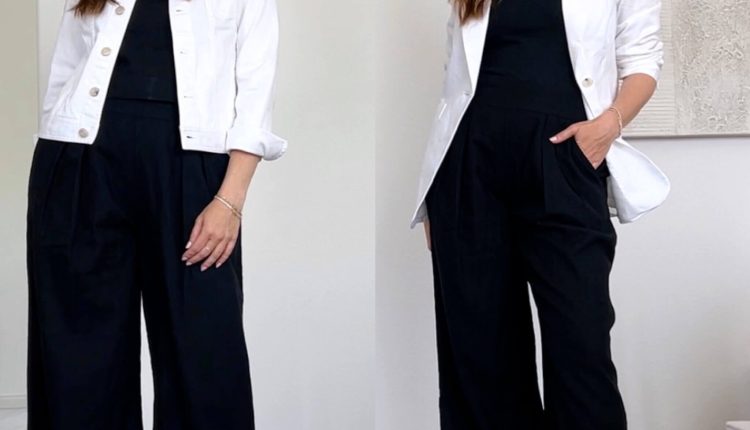 How to hide belly fat with 9 simple styling tricks
My flat stomach has always been one of my favorite parts of my body. I used to do Pilates several times a week, it strengthens the core. And when I gained weight, it was mostly on the lower half of my body. Then I had a baby. I figured my stomach would shrink within the first month, two months at most. It has not. And because of the complications of the birth, I couldn't train either. So, for my new postpartum body, I relied on the next best thing: fashion. Here are 9 styling tips and tricks I use to hide belly fat.
Want more videos? Check out my tricks for hiding belly fat on Instagram Reels
#1: Dress in solid colors
This trick works no matter what body part you want to dress up. If you want to look slimmer or taller, dressing in one color from head to toe always helps. It works even better if your monochromatic outfit is a darker color, such as black, navy, or chocolate.
✓: Blazer: Talbots I Top: Abercrombie I Pants: Abercrombie I Flats: Vivaia
#2: Avoid boxy shapes
The goal is to create a long, slim silhouette. So forget the boxy tops and jackets.
#3: Part the upper body with an open blazer
A long blazer gives the impression that you would trim your midsection!
✓: Dress: Mestiza I Sandals: Dolce Vita
#4: Flaunt your legs
Draw attention away from your stomach by flaunting your legs. Not comfortable in Minis? You can also use the same tip above by showing off your cleavage and arms.
#5: Go for A-line silhouettes
Relive the '60s with a playful A-line dress instead of a dress that's straighter and slimmer.
✓: Shirt: Hatch (no maternity wear here) I Jeans: Talbots I Flats: Vivaia
#6: Take off your top
If you want to show off your waistline, tuck in your tops. But to hide a center part, it is best to leave the tops open.
#7: Make it voluminous on top
Keep the volume on top with flowy blouses or relaxed shirts. Compare the roomier shapes with narrower shapes at the bottom.
✓: Top: Athleta I Leggings: Athleta I Sneakers: On Cloud
#8: Create diagonals
Asymmetry is your best friend. Diagonal lines instantly create a flattering silhouette. So pull your top off one shoulder. Or look for dresses and tops with asymmetric necklines.
#9: Invest in compression pants
Living that leggings life? Make them into compression leggings! You immediately save a few centimeters. If you're more of a jeans girl, there's also compression denim.
are you shorter than me Here are my tips on how to look taller!