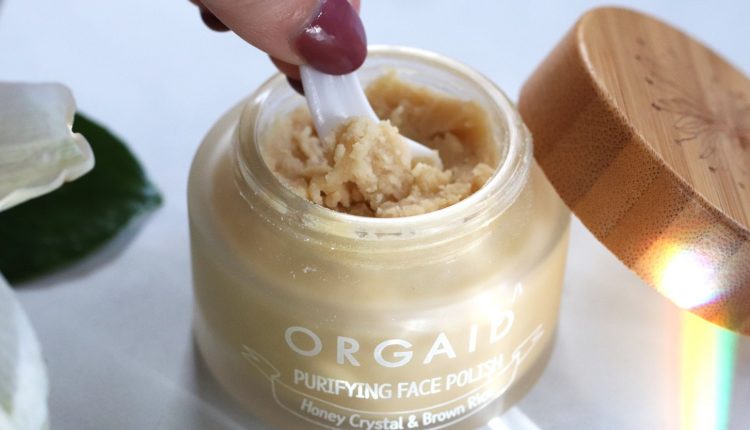 Where are my clean beauty fans? You may not notice it, but not all clean beauty brands are cruelty free! It seems like they go hand in hand, and most of the time they do, but not always. If you want the best of both worlds I have a website for you to check out.
Cynaglow is a carefully curated non-toxic beauty site created by Cynthia Liu. Cynthia lives a healthy, wholesome lifestyle and after taking a close look at her luxury beauty products (which are often loaded with artificial fragrances and hormone disruptors), she decided to do a major overhaul. She also suffers from allergies, so switching to a natural, clean beauty regimen only made sense. She founded Cynaglow to educate consumers while also offering organic and natural products that she personally reviewed.
I had the chance to try out some of Cynaglow's natural skin care products and I think you will love these natural beauty products.
ORGAID Purifying Face Polish is a gentle peeling made from honey crystals and brown rice. If you are the type who wants to voice what is in your skin care products, you are going to love this one!
ORGAID is Leaping Bunny certified and cruelty free. The ingredients of this natural face scrub are 93% organic. There are no parabens, alcohols, sulafates, phthalates, phenoxyethanol or formaldehyde.
To use, simply mix the paste with a little water and gently scrub the skin. If you want a gentler peel, you can use more water. The honey crystals dissolve during the peeling and the jojoba, sunflower, soybean and thistle oils keep your skin moisturized but not greasy.
This is an excellent exfoliant for normal to dry skin types. It is especially helpful if your skin becomes flaky in the fall and winter. Pro tip for dry skin types: Use lukewarm (not hot) water to avoid drying out the skin.
Are you a fan of sheet masks? You may find that there aren't many sheet mask reviews on My Beauty Bunny. That's because most of them contain way too many ingredients, and it's just too risky for someone with sensitive, acne-prone skin.
I was impressed to see that the ORGAID Anti-Aging Moisturizing Organic Sheet Mask (vegan and cruelty free) contains a fair amount of ingredients that I recognize!
Here is the full list – see, it fits in a paragraph!
Water, organic aloe vera leaf juice, witch hazel distillate, niacinamide (vitamin B3), kosher vegetable glycerin, lactobacillus ferment, hyaluronic acid, maltodextrin, arginine, xanthan gum, honeysuckle flower extract, organic willow bark extract, organic lavender extract, Organic horsetail extract, organic green tea extract
This is a good sheet mask for all skin types – it's moisturizing but not greasy and not overly geared towards any particular skin type. The aloe and hyaluronic acid are great for moisturizing without clogging the pores. The niacinamide is ideal against skin aging and for the prevention of acne. There are also plenty of antioxidants to protect and heal, as well as probiotics to protect your skin's natural microbiome.
Right now, you can get a free, citrine-infused Elixir Apothecary Mellow soap bar with every $ 75 purchase. You can also get your hands on a copy of Cynaglow's Free Fall Skincare Guide and get 15% off your first purchase here!