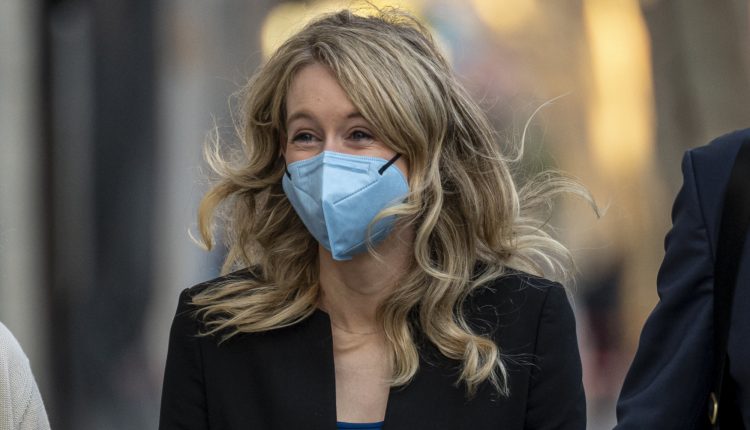 Elizabeth Holmes admits that she went to see Rupert Murdoch to attempt to kill the WSJ Theranos story
SAN JOSE, California – On her first day of asking questions, Theranos founder Elizabeth Holmes admitted she tried to get News Corp's Rupert Murdoch in 2015.
"You went to the owner of the Wall Street Journal in person to try to suppress the story," asked Robert Leach, a US assistant attorney, Holmes.
"I have," replied Holmes.
The no longer with the newspaper article by John Carreyrou of the Journal was finally published on October 15, 2015, opening the gates of inquiry that eventually led to Theranos' death in 2018 and the indictment of Holmes on criminal fraud charges.
Elizabeth Holmes, founder of Theranos Inc., will appear in federal court in San Jose, California, USA on Tuesday, November 30th, 2021.
David Paul Morris | Bloomberg | Getty Images
Holmes has faced 11 wire fraud and wire fraud conspiracies for her role with the blood testing company and could face up to 20 years in prison if convicted. She pleaded not guilty
In her four previous appearances before the jury on November 19, Holmes answered questions from her defense lawyers trying to portray her client as a young and perhaps over-ambitious entrepreneur who wants to do good and change the world. On Monday, Holmes summed up her responses and explained to the jury what she called a decades-long abusive relationship with her ex-boyfriend, Ramesh "Sunny" Balwani, who was also the company's president.
Tuesday's cross-examination brought back focus on Holmes and her alleged deception and efforts to mislead investors, patients and the public. Murdoch was one of the many wealthy people who invested in Theranos, personally investing $ 125 million in early 2015.
That gave Holmes a direct link to Murdoch. Leach showed the jury an email that Holmes sent to the media tycoon in September of that year. In it, Holmes was referring to Gerard Baker, the journal's editor-in-chief at the time.
"When I first thought about it, I thought that I would like to know / be kept informed, if I were you," wrote Holmes. "We really hope that Gerard will meet our team."
She told the jury, "It was part of my efforts to get Mr. Murdoch to ensure that our trade secrets are not disclosed."
Rupert Murdoch
Drew Angerer | Bloomberg | Getty Images
Holmes admitted that she was "very concerned" about the history of the journal.
Carreyrou, who was part of the trial this week, left the Journal in 2019, a year after he published his book on Therano's Bad Blood: Secrets and Lies in a Silicon Valley Startup. Carreyrou told CNBC on Tuesday, "I stand by every line of what I've written."
At the booth, Holmes was asked about her threats against former employees Tyler Shultz and Erika Cheung, who became whistleblowers. Cheung testified as a government witness that after she left the company, she was followed by private investigators and threatened with legal action.
The whistleblower was right
Holmes admitted she hired Boies Schiller Flexner, David Boies' law firm, after learning that Cheung was speaking to Carreyrou. Holmes said she was trying to prevent Cheung from divulging the company's trade secrets.
"I don't think she was right about the specific issues she raised, but I really wish we'd treat her differently and listen to her," said Holmes, who on Tuesday seemed evasive at times and seemed more nervous than hers Appearances take questions from defense lawyers.
"You know today that Ms. Cheung was right, isn't that fair?" asked Leach.
"Yes," said Holmes, also telling the jury that the way they handled the Journal's investigation was "a disaster".
At the direction of the prosecution, Holmes read aloud text messages that she had written to and received from Balwani. While reading the news, she collapsed on the stand.
In a text to Holmes on October 21, 2015, Balwani wrote: "I have prayed for you from the bottom of my heart. Holmes read the note while wiping away his tears.
Former Theranos President and COO Ramesh "Sunny" Balwani smiles after a hearing in a federal court in San Jose, California, July 17, 2019.
Stephen Lam | Reuters
In another message, Balwani wrote: "You are God's tigress and warrior. You are extraordinary." Holmes replied, "To come from my tiger means the whole universe to me," and she wrote, "I love you."
"Fair to say this is an example of how Mr. Balwani expresses love and affection for you?" asked Leach.
"It is," said Holmes.
Leach pointed out that the word "love" appeared 594 times in the 12,000 government SMS messages between Holmes and Balwani.
It was a striking departure from Monday when Holmes claimed that Balwani had physically and sexually abused her throughout their relationship and controlled almost every aspect of their life, including their schedule and diet.
"He influenced everything who I was," Holmes told the jury in response to questions from their defense lawyers. "And I don't quite understand that."
Balwani, who faces the same charges as Holmes, denied the allegations and also pleaded not guilty. Its process is scheduled to begin in early 2022.
Leach also harassed Holmes about her working relationship with Balwani.
"Sunny Balwani got in touch with you?" asked Leach.
"He did," said Holmes.
"You could fire him anytime?" asked Leach.
"I could," replied Holmes.
In a surprising admission, Holmes admitted that she had a different romantic relationship while in a relationship with Balwani.
"How long did this relationship last?" asked Leach.
"It didn't," said Holmes. "It wasn't really a formal relationship."
"But you were romantic with someone other than Mr. Balwani from 2010 to 2015?" asked Leach.
"Yes," said Holmes.
The dish disappeared just before 4 p.m. California time. The cross-examination of Holmes will resume on December 7th. The defense said it would be dormant next week. At that point, the government will have an opportunity to refute it before the jury begins its deliberations.
SEE: Holmes describes the sexual abuse of Sunny Balwani
Correction: Holmes' cross-examination will continue on December 7th. An earlier version incorrectly stated the day.