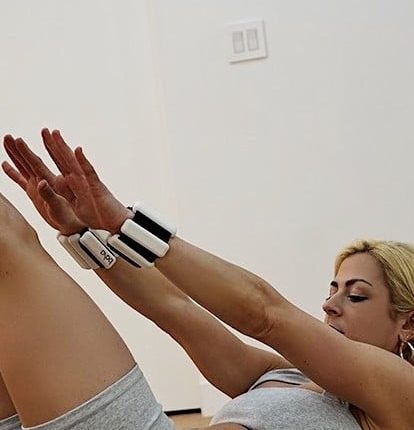 I've been using Bala Bangles for years, but when I was pregnant with my first one, they became a staple of every workout. There were so many moves I couldn't do or needed to change, Bala was a way for me to keep my training challenging despite the changes. The bangles stayed stuck to my body after birth and I still use them on baby #2 now. The difference in definition is incredible, but it's not just on the arms – they can help with overall body tone too.
With that in mind, we reached out to Casey Cohen, NASM, CFSC, pre/post-natal certified ELI performer at Life Time and global resident trainer for Technogym, for her insights into using Bala Bangles to provide low-impact abdominal exercises to improve .
Note that you don't have to use bala, all arm/ankle weights will work but none are as comfortable. Balas don't hang, don't slide, etc. During the pandemic when they were backordered, I was "forced" to order knockoffs since I wasn't in NYC where my set was – they didn't just slip and slide and often literally fell apart !
With that said, here's a look at three moves to sculpt your abs.