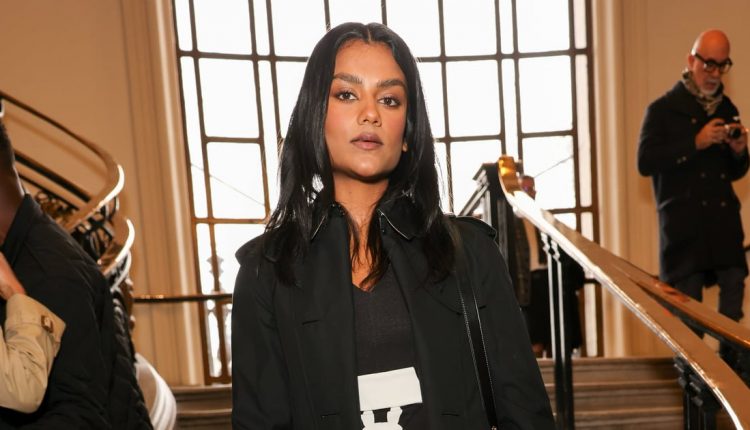 Following the announcement of a collaboration with American streetwear brand Supreme, Burberry staged its first in-person collection since 2020 in London, drawing a star-studded crowd. Among them, "Bridgerton"'s new leading lady, Simone Ashley, was a special guest, making an appearance clad in the brand's signature trench coat. Ahead of the release of the show's season two on Netflix, the British actress walked into Westminster's Methodist Central Hall for Riccardo Tisci's return to in-person shows, wearing a black-and-white mini paired with low-heeled pumps.
Ashley joined other celebrities like Naomi Campbell and "Euphoria" actor Jacob Elordi. Black was a popular choice for the occasion, with Campbell's tailored pantsuit and semisheer V-neck and Elordi's sharp leather jacket and matching trousers.
The luxury fashion brand returned to its British roots, presenting a collection that taps into London's cultural heritage. As Tisci explained, "It was important for me to explore what it means to belong, how our roots influence our identity and how the power of community and togetherness is what truly brings meaning to the world."
The catwalk featured Burberry's heritage check print elevating pleated skirts, trench-coat linings, duffel bags, and thigh-high boots. Models also hit the runway in green tartan skirts and jackets, one of them carrying a bag emblazoned with the pattern.
Tisci experimented with deconstructed trench coats, reimagining them as belted strapless maxi dresses. Cosmopolitan and country references were visible in a plethora of garments — from schoolboy caps to wax jackets — all capturing the varied facets of British life. "The collection embodies an intangible essence that is Britishness," Tisci said. "A unique fusion of honoring the beauty of the past, whilst also remaining focused on the future with thankfulness, hope and love."
Ahead, see the stars who were in attendance, and catch a glimpse of Tisci's celebration of Britishness.