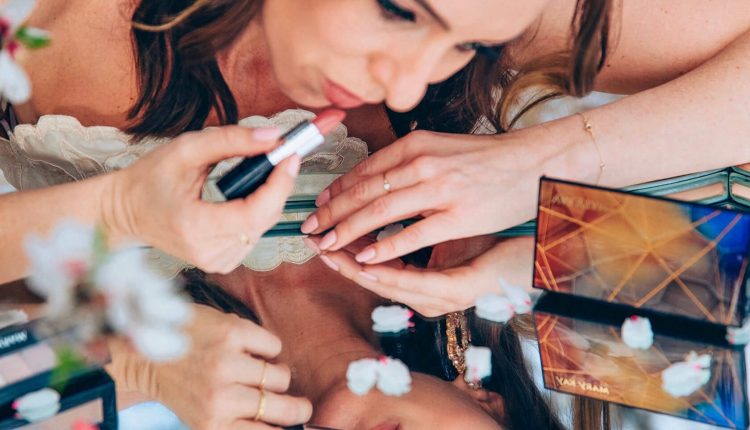 After spending so much time at home in 2020, I became a creature of habit. I kept reaching for the same things. It was comforting to have some stability in my life at such an uncertain time. I knew if I put a certain lipstick on, it would look good no matter what I wear. I knew my feet would always be comfortable in my shoes. I knew my head would always feel a little better when I took out my ice roller.
"Bit by bit it becomes a bit much."
– Tanzanian proverb
All the little things added up. In no particular order, here are my 20 most used products of 2020:
1. Sunglasses: Ray-Ban "Erika"
I loved it when I tried these Ray-Bans. They are so incredibly light! Of every pair of sunglasses I've ever tried, I find them the most comfortable. I got my mom addicted to her too. We both now have two pairs each.
2. Nail Polish: Essie Treat Love Color
I still can't believe I haven't had a mani pedi since March. To keep my nails looking their best at home, I have mainly relied on Essie's Treat Love Color collection which, as it sounds, works as a nail treatment and nail polish. I switched between a few colors, but my favorite was Tonal Taupe.
3. Lipstick: Mary Kay "Blush Velvet"
Do you remember the lipstick I mentioned that looks great no matter what I wear? That's it! It's the perfect act with just a hint of color.
4. Hand sanitizer: EO hand sanitizer spray
I don't think I've ever been so lucky to be ahead of a "trend". I have used EO hand sanitizer sprays for years. And I was lucky that I had just replenished them for a pre-pandemic trip and there was a huge shortage. Fortunately, they're back now. French lavender is my favorite scent, but they're all really great and won't dry out your hands.
5. Shoes: Birdies "The Starling"
These are by far the most comfortable apartments I own. They feel like slippers but work as shoes all year round. I have two different colors, but mostly I wore the "latte suede".
6. Loungewear: Sydne Summer
While I thought I didn't bring out my own loungewear until the fall of this year, the frequency with which I wore the separates makes them my 2020 most used by far! If I had to pick one look that I've worn the most, I'd say it's the rosewood off the shoulder with the wide leg pants.
7. Face mask: Sydne Summer "Almond Dot"
I obviously wore all of my face masks this year. But I wore the almond dot the most. Neutrality goes with everything!
8. Mask necklace: Sydne Summer "Crystal Sprinkle"
No doubt I wore my delicate gold the most. You hardly feel it and it goes wonderfully with my two golden, delicate necklaces, which I never take off.
Book 9: Everyday Mindfulness
I start every morning by reading the quotes from all of my everyday books. But the original that I received as a gift is still my all-time favorite.
10. Bra: Skim's t-shirt bra
I was so impressed with Kim Kardashian's line and her t-shirt bra has become my first choice since I tried it earlier this year.
11. Sun Protection: Elizabeth Arden Great 8 Sun Protection Moisturizer
Despite being home so often this year, I still put my sunscreen on every day. I reached for this the most. It blends into your skin instantly and feels more like a serum than a moisturizer.
12. Tool: ice roller
I don't know how I lived before I had an ice scooter! It mainly helps my headache. I also use it to reduce swelling around my ice cream.
13. Hair Mask: Pureology Hydrate Soft Softening Treatment
Apart from an appointment with Kim Vo, I mostly touched up my hair color at home this year (a first for me!). I was thrilled to find an amazing hair mask that works very well with colored hair. This makes my hair feel so soft and healthy!
14. Device: Nespresso
I have two shots of Vivalto Lungo with oat milk every morning. I don't know what I would have done this year without my Nespresso machine!
15: Vitamin: vital proteins collagen peptides
I pour two scoops of powder into my latte every morning to improve the skin and hair.
16. Eye patches: Peter Thomas Roth Cucumber Detox Hydgra Gel
I keep mine in the fridge for extra cooling. I love eye patches in general, but I've reached for them the most this year. You feel so good!
17. Candle: Votivo Rush of Rose
I usually change the scent of the candles when the season changes. But I lit my rose all year round.
18. Practice tool: foam roller
I definitely haven't trained as much as I was hoping for this year. I mostly took long walks. But I used my foam roller a ton. It really helped me to sit at home so much!
19. Training clothes: IVL Collective
On my walks and my occasional training at home, I reached for my IVL training clothes most of the time. They definitely became a new favorite this year!
20. Device: Alexa
A few days ago in the spring, Alexa was probably the only person I spoke to. We definitely got closer this year.
What were your most used items of the year? You can check out more of my favorites in my review sections: