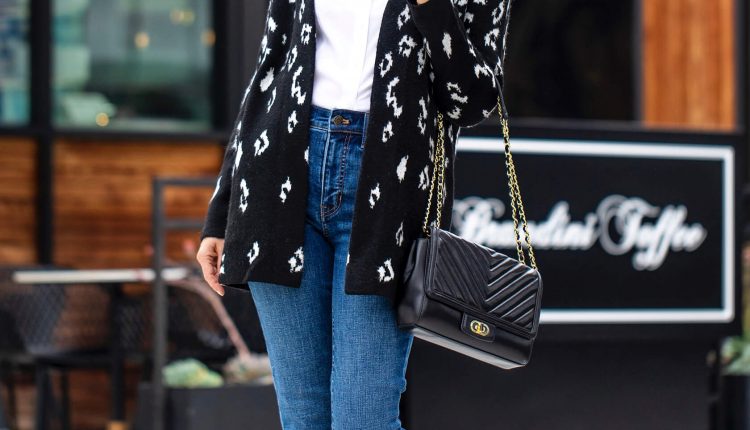 Black and white prints are an easy way to upgrade any casual outfit. I've been playing with various black and white outfit ideas lately that include prints for my casual style. Two black and white prints that I love right now are stripes and leopard.
black + white stripes
Shirt I turtleneck I leggings I bag I boots
Many people usually think of stripes for spring and summer. But I love stripes all year round. You can wear a striped sweater or a turtleneck with just about anything in your wardrobe! I love to keep it simple and pair it with jeans (or a denim legging hybrid like these crazy comfy stretch pants). I added a denim shirt instead of a jacket to make things more casual. But I also plan to wear the turtleneck alone for a slimmer look.
black + white leopard
Cardigan I shirt I jeans I bag I boots
Another black and white print I've played with is leopard. While I love a classic leopard, sometimes it's nice to take a more subtle look at the animal print. This is where black and white comes into play. I like adding a subtle pop to my classics like a white button down and jeans. It also reminds me of one of my favorite animals: the snow leopard.
Whether you're a team stripe or a team leopard, when it comes to black and white prints, one thing is certain: you will always look good with a bold red lip. This is the perfect way to add a bit of holiday flair to your casual look for the season's outfit!
PHOTOS BY MUNOPIA